We Suffered Like Royalty – Four Seasons Manele Bay, Lanai, HI
Written By: dawg on October 20, 2011
No Comment
Stolen from my TripAdvisor review …
This was our first stay at a Four Seasons resort, as the final 2 nights of a 17 day, 4 island Hawaiian celebration of our 25th wedding anniversary. 
Our only disappointment was not having stayed for a week, instead of 2 nights.  From the time we arrived at the airport, the Four Seasons greeted, spoiled and pampered us as if we were the King and Queen of Lanai.  Met at the airport desk after an early morning flight, our luggage was taken to the hotel, while we made our way to pick up our rental Jeep and tour the island (Garden of the Gods, Shipwreck Beach where we pulled another unfortunate rental Jeep out of the deep sand, etc.). 
Upon check-in, we received an upgrade for our anniversary from garden view to a "garden-ocean view". Honestly, the view of the garden was fascinating and a nice section of the ocean was indeed visible from the lanai, albeit over the lovely green roof of another building.  Throughout our stay, the staff impressed us by constantly addressing us as "Mr. and Mrs. Trump".  OK, granted that's not really our name, but they always used "Mr. and Mrs.", so you get the idea of how welcome and appreciated we were made to feel.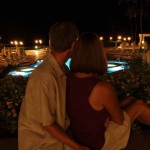 Following our first evening at the resort, we quickly realized that we could easily become accustomed to the pampering at this incredible tropical paradise.  Therefore, we returned the rental Jeep the next morning (2 days early), deciding that being spoiled at the resort was a better alternative than bumping around in a dusty Jeep for 2 more days. At the pool, one could quickly forget the existence of a real life back home, looking out at the beach and the ocean from the shade of an umbrella or cabana, setup especially for you by the pool staff.  The friendly attendants lay out towels for you nicely on the lounge chair in front of your eyes, then open the umbrella and place it perfectly to your liking.  Fighting for shade at other island resorts rapidly fades into the past, as the unlimited opportunities for sun shelter present themselves at Four Seasons.   No sooner has your rear quarter hit the chair, when you are forced to suffer through periodic  rounds  of complimentary ice water, cold, wet washcloths to cool your body, sprays from refreshing sprits bottles, exotic juices delivered in cute little cone shaped glasses, even cleaning of your sunglasses so your view of heaven is not clouded with sunscreen smudges.  One of the very friendly pool attendants called himself Dr. Shade, because of his commitment to cleaning and even repairing guest's sunglasses.  He informed us that he was very competent using his repair kit to do surgery and heal the casualties from the pool and beach.
Like all the upscale Hawaiian resorts, the restaurants are very good, but rather pricey.  The only alternative would be to drive or take the resort shuttle about 20 minutes into Lanai City, where several less costly eateries are available.  Of course, since we saved $300 by deserting our junky rental Jeep for 2 days, the price of a few Pina Coladas and savory dinner entrees was not a concern.
The beach is quite a hike from the resort, which is perched perhaps 75 feet above sea level on the hillside.  However, once there you can enjoy the same exquisite service that is offered at the pool (minus the tasty pina coladas), with comfortable loungers and umbrellas arranged to your preference on the beach. 
The surf is relatively calm and on the left (East) side of the bay is a coral reef with a remarkable quantity of fish, if you enjoy snorkeling.  In fact, about 75 yards from the beach, I was stunned to see a large school of yellow tang fish (30-50), more than I have ever seen during many years of snorkeling on all the Hawaiian islands, the Caribbean, Bermuda and Mexico.  The fish in this spot even beat Molokini crater on a good day. On the last day, we arranged (for a nominal fee) a late checkout at 5:30 PM and enjoyed the pool one more time.  As we were leaving, we mentioned sadly to Dr. Shade that our flight departed in a couple of hours.  With the utmost sincerity, he told us emphatically "It has been a true honor to be able to serve you.  I hope you enjoyed your stay and come back to see us soon". Regarding waiters, Arnel always offered pleasant service and great conversation to start our day at breakfast.  I have no idea why, but he received a big hug from my wife as we left the restaurant on the last day.  I guess that is her way of saying "thanks for showing such genuine friendship", or more likely "I am going to miss this place and your service so much".
So to summarize, stay away from this resort, unless you wish to endure severe pampering, disgustingly beautiful surroundings and horrendously tantalizing ambiance.  The service that the hotel staff provides is undoubtedly the best we have ever experienced.
Thank you Four Seasons for the perfect finale to our Hawaiian vacation.