I Love Luci
Written By: dawg on April 18, 2017
One Comment
I'll Show You
March, 2008 – Time for a new puppy and the decision is near.  A cute little black yorkie was tugging at our heartstrings.  Just one more side trip to Denver to see a few more pups. Upon arrival, we saw the tiny Shih-poos and began holding a few of them.  One little female pup was well aware of the yorkie competition and soon said "I'll show you", putting a slam dunk on the championship game.  While in Momma's arms, the little baby looked up at Momma and then gently laid her head down on Momma's shoulder, resting it comfortably and warmly in place.  Momma cooed like a dove, as the love affair had already begun.  Look at this Momma exclaimed!  She is the one.  In the end, we didn't pick her, she picked us. That was the beginning of the nine year episode of "I love Luci".
A Wonderful Bouncy Springboard
Upon arriving at her new home, little Luci encountered a giant, bumbling 14 pound furry black Pomeranian named Koko.  Koko was 12 years old and moved slowly with many ailments of his age.  At first introduction, Luci immediately squealed in fright, jumping back to Momma, not yet realizing Koko's gentle demeanor.  Minutes later they were both sniffing with interest.  Koko became a wonderful mentor for Luci.  The next day they were cuddled together as best friends.  Unfortunately for Koko, Luci had vastly more energy and Koko was content laying on the floor with minimal movement.  Luci took that opportunity to run blazing circles around the room pouncing across Koko's belly as a springboard with every lap.  Poor Koko would lunge at her in defense upon each bouncy pounce, but was far too slow for the younger, speeding Luci.  These two shared one month of their lives, until Koko's body failed him, his final duty having brought Luci into the family.
R-E-S-P-E-C-T – A Little Respect
Soon enrolled in a puppy obedience class, the first day had one other student … an Irish Wolfhound, towering two feet tall over Luci at about 4 inches.  Having survived Koko, Luci was not shy with her class mate, socializing and playing without fear.  She carried this same mantra her entire life.  She was happy to sniff with any dog, big or small, although sometimes her small stature prevented her from actually reaching the important sniffing parts.  A great friend was Josefina, a 100 pound Saint Bernard in Mexico, with whom she played for two months in her first year.  Luci was never afraid of other dogs.  But don't think she was a pushover.  Many a larger dog encountered a quick correction if attempting to become too personal or dominant with little Luci. "R-E-S-P-E-C-T" she would say and invariably that is what she received.
Bittersweet Boston
In April 2008, Luci travelled to Georgia, accompanying Momma and helping console her during the loss of her Father.  It was here that she first met her best friend for the next 7 years.  Chancey, a bouncing Boston Terrier, who previously lived with Momma's father.  They were soon chasing each other around the house and playfully jawing with each other.  Not only was Luci a little faster than Chancey, she could also dart quickly into small spaces where Chancey simply could not fit.  The game of chase was their preference, frequently entertaining their people, who egged on the game with tremendous laughter.  In her more energetic years, Luci actually ran laps around the sofa, whether Chancey followed or not.  This behavior continued after Chancey was gone, although the number of laps dwindled with age.
Arf, Arf, Arf
There are three reasons to bark:
Momma and Daddy are home – three Arfs is the assigned greeting for this occasion and I am always at the door waiting when they arrive.
The evil dog across the street was walking by.  That was cause for continuous, non-stop rebuke until my nemesis had left the premises.  Other than this one dastardly canine, there was never a reason to bark at other dogs.
When the doorbell rang, bark incessantly and race to the door, since Momma and Daddy probably didn't hear that tiny little bell.  Then stop and greet the guest with sniffing nose and wagging tail.
Show Me the Money!
"Here are a few tricks I know … sit, stay, come, down, to name a few.  I am even bi-lingual, understanding the same commands in Spanish.  Only one condition, "Show me the money" or in other words "will work for food", specifically any dog treats.  To that end, I am the perfect angel.  If you don't have a treat, let me think about it.
I Can Hold It
Some winter mornings in Colorado can be brutal, with deep snow and bitter cold.  Therefore, a girl has to test the waters first.  Luci's norm in winter is to peek slowly out the dog door and check the forecast.  Only then can a decision be made to endure the weather immediately or decide "I can hold it".  In the latter case, Luci would simply pull her head back inside the doggie door, turn around and stare up at Daddy … "can't you help a girl out a little by getting your butt out there and shoveling that snow?"  Puppy dog eyes always win and Daddy was shoveling a path at 5:30 AM.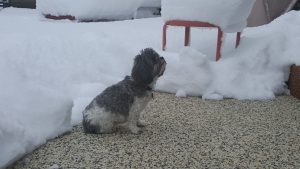 That's My Spot
A favorite pastime for Luci is what we call the "lap nap", a daily ritual of laying on Daddy's lap while one or both of them take a nap.  Occasionally, a better lap showed up at the house (Grandma), at which time Luci transferred the responsibility.  Unfortunately, when Daddy worked from home or played on the weekends, a laptop was a constant nuisance.  Luci's solution was to stand next to Daddy and stare down the annoying laptop, waiting for Daddy to move it out of her spot, giving room for the cherished lap nap.  Somehow, this solution always worked.
We're Not Leaving Yet!  Where's My Treat?
Luci loved to go shopping at Lowes, Home Depot and Ace Hardware.  Departure from these stores always included the certainty of a fond treasure … a doggie treat.  Occasionally, the people would forget about this ritual, prompting Luci to put on the brakes, pointing those front paws outward and planting them stiffly to the ground, turning her eight pounds into at least double that in resistance.  Stubbornly refusing to depart and insisting upon that holy grail … "WHERE'S MY TREAT"?  The store clerks and other customers frequently laughed aloud from the bold display. Inevitably, Luci achieved success during these exasperating times.
Mission Accomplished
Momma and Daddy sometime were able to sneak away and enjoy privacy in the latrine.  Luci, invariably would search and find the sly humans, pawing at the door and pushing her way through, where she would then roll and rub on your feet, owning you as proof that she was in control.
Pee On Command
On a hot summer day, Momma and Daddy took Luci to the concrete jungle of Sixteenth Street Mall in Denver.  In this area of downtown Denver, there is virtually no grass suitable for a good doggie pit stop.  After enjoying a few outdoor patio restaurants and then walking many blocks, we knew it was time for the inevitable.  However, neither Luci nor her people were comfortable with this activity on the concrete sidewalk.  Eventually, we located a patch of dirt next to a tree that was no more than one foot square.  Pointing Luci to that spot and suggesting "go pee-pee", she immediately assumed the position and took care of business.
What Time Is It?
Luci had a keen sense of time.  At 3:30, lay next to the door, because Daddy will be home soon.
Knew the difference between Momma getting up to get a snack and getting up to go to bed.  She was always ready to go go to bed, because that involved treats.
Stay put if Daddy gets out of bed at 4:00 AM.  He will be back soon ce site.  If he gets out of bed at 5:00, move to his pillow or next to Momma, because the day has begun and the bed is all mine.
Ride'Em Cowboy!
Luci was literally scared of nothing.  When we bought a Roomba vacuum, she was immediately inquisitive, watching the strange robot just like her people did.  With a little "positive reinforcement", Luci actually rode the Roomba, with little concern for her safety.  She often accompanied us in the basement, while Daddy was finishing it.  Electric saws, nail guns, and hammers were fine, as long as she was where we were.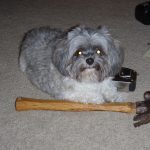 I'm Back
Following a bathroom break or a diversion outside, Luci would burst back through the doggie door, stop promptly and look around for us, posing momentarily like a statue.  As if to say "I'm back, aren't you glad to see me again?"  On a sunny summer day, she loved to lay in the back yard, either in the grass, the mulch or the rocks, sometimes returning with bits of mulch mixed into her fur.
The Facts of Life According to Luci
A rub on the side is the perfect excuse to "give the belly", rolling to a more suitable position for the best rubbing spot.
The best spot is Daddy's lap or Momma's footrest.
A foot tap in the kitchen = time to mop the floor with my tongue.
Toes are good for licking … Joe.
Daddy offers the best sleeping experience, unless I am feeling poorly in which case "I want my  Momma".
Grrrr while eating = please come stir my food or fill the bowl.  The bottom of the bowl is showing and I refuse to eat in such terrible conditions.
Prrrrtt from Momma = do the twitch, a quick jerking body motion while laying upside down on the floor.  Frequently followed by jumping and running sprints around the sofa.
When the back door shuts, we're going for a ride.  I love going for a ride.
We'll be back = they're leaving without me again.
If a treat is too big, Momma or Daddy will break it in pieces.
I Can Hear You
Sounds I know quite well:
The peanut butter jar lid being screwed off.
The treat bag rustling.
Sofa footrest opening, offering a favorite spot.
The garage door going up … someone is home.
Things I Do for Treats
Sit with Momma while she plays the Piano.
Participate in exercise.  Well, at least I participated one time, jumping on the treadmill and quickly slammed against the wall behind it.  After that my participation was on leash away from that dangerous contraption.
Pose for photos.
Sit on top of a fence post for a picture.
A Few of My Favorite Things
Laying on the back of the couch.
Going for a walk.
Walking in the front pack with Daddy.  Content just being with us, even if she couldn't walk very long in her later years.
Sitting on the front porch on a warm summer day.
Laying contently in Mommas lap for hours on road trips or just a trip across town.
Resting in the dog bed on the back porch
Laying in the sun on a warm summer day.
Playing endlessly with my best friend Chancey.
Playing fetch with toys.  My favorites were "kong toy" and anything with a "squeeker".  But I  always made people "work" a little to get the toy back.
Loved meeting new people and I never met a stranger.  I would come to anyone for a little petting.  However, the affection was short lived, unless a treat was involved.
I might have been little, but I knew how to take up a lot of space on the furniture and in the hearts of my people.
Hanging out with the farm animals … pigs, lambs, chickens, cows and horses.
Pillow surfing and doggie bed surfing – yep, I trust you guys when you move the pillow with me on it.
Tricking lawn cleanup service lady into giving me more treats.  I would run inside and hide it, then run back out for another handout.
Standing or sitting on top of things … a piece of paper on the floor, a scrap of wood, pillows, anything that makes me taller or that I can "own" for just a minute.
Dressing up in costumes … OK, putting up with Momma dressing me up.
Sitting in the front window waiting for some excitement to happen.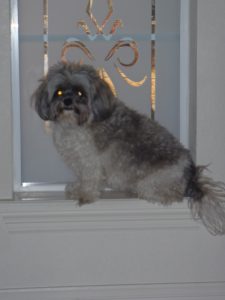 "Walking the plank" at my first house … follow the railroad tie road.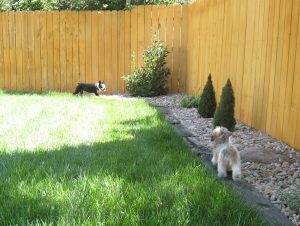 Just hanging out doing nothing or doing something unusual.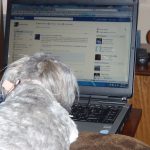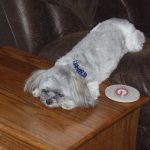 Things I Loathe
Being brushed.
Going to the groomer.
That evil dog across the street.
My Bucket List
I flew on airplanes many times and enjoyed travelling – Florida, Georgia, Louisiana, Mexico to name a few.  Not a peep nor a mess did I make, travelling under the seat at Momma's feet. As long as Momma is in sight, I'm alright.
I loved road trips, sitting on Momma's lap and enjoying all the rest stops.  I estimate I have been in over 20 U.S. states.
Swimming in the pool in Florida. Very good swimmer, but didn't really like it.
Also floated on a raft in the pool, which was much more enjoyable than swimming.  Still would jump off as soon as the opportunity arose.
Daddy ensured that I smelled the Roses occasionally in the front yard.  They were interesting for about 5 seconds.
When weather was good, I went everywhere with Momma and Daddy, all over Colorado, waiting patiently in the car or hotel room for their return.
Morning Ritual
When Daddy returns from the shower, walk to the footboard and wait.  Daddy picks me up and we go to the back door, where I go out and do the morning business.  While Daddy eats breakfast, I nap in the doggie bed.  Next, let's go see Momma.  If Daddy puts me on the right side of her, I walk over her to the left.  If he puts me on the left side, I walk over her to the right.  I just like to walk over her to find the best spot!
Later, if Daddy is working from home or it is a weekend, Momma "revs me up" behind the bedroom door.  When the door is opened, I tear out to jump in Daddy's lap, forcing that laptop out of the way.  I am so dejected on days when Daddy is working in the office.
If my people sleep too late, I sometimes let them know by walking up and down on them or just pounce on their face with a wet tongue as soon as I see any movement or glimpse of eye contact.
Night Ritual
Waited for nightly turn down service, which started when Momma docked the remote and lowered the footrest.  Next it was outside to relieve my bladder, followed by two treats.  Then follow Momma around to the bedroom and wait as she prepared for the evening.  Momma would whisper good night, give another treat and then point me toward Daddy's side of the bed.
I usually slept next to Daddy, which was usually peaceful.  However, on occasion, Daddy would roll over, pushing the covers upward and send me on a somersault that left Momma chuckling.
Brave, Enduring and Content
In the arms or lap of Momma or Daddy, Luci was content until the end, comfortable and happy as long as she shared our company.  She shed no tears, not a whimper, even during pain and adversity.  We never knew she was sick until her body started failing.
March 25th, 2017 – Luci had cancer that had consumed most of her lungs. We didn't know until her breathing became strenuous and X-rays told a sad story. Looking back, there were some signs, but even our veterinarian didn't seem alarmed by the mild symptoms several months prior. It was a shock, since she was still relatively young for a small breed dog. Even in her last days, she didn't show the signs of her pain, seemingly content just to be with us. But her breathing became much more of a struggle and she started coughing blood.  On March 28th, 2017, we were able to comfort her as she took her final breaths.
In Memoriam
Buttons (never met Luci) – December 2, 1994 – March 14, 2008
Koko – July 7, 1995 – April 14, 2008
Chancey – August 31, 2003 – April 2, 2015
Luci – January 28, 2008 – March 28, 2017